2019 SE POTESSI MANGIARE UN'IDEA
La storia del ristorante itinerante Alduccio a Bosa, in Sardegna.
The story of the Alduccio's food truck, in Bosa- Sardinia.


2016 MICHELANGELO PISTOLETTO.IL TERZO PARADISO A ROMA.
Un gruppo di giovanissimi si confronta con un nuovo modo vivere la realtà, attraverso l'arte. Il simbolo creato da Pistoletto chiama tutti a partecipare al processo di trasformazione del mondo.
A group of very young people face a new way of experiencing reality through art. The symbol created by Pistoletto calls everyone to take part in the process of the world's transformation.


2015 HO DECISO DI RIDERE CON TE
Al Teatro Accento di Testaccio a Roma, comici, autori e cabarattisti ogni mercoledì si ritrovano per provare pezzi nuovi, darsi consigli e cucire insieme lo spettacolo della sera.
Every Wednesday, at the Accento di Testaccio theater in Rome, comedians, writers and cabaret performers gather to try out new theatre productions, share advice and put together the evening performance.
2013-2014 AVVENTURE IN GALLERIA
Il racconto dei meravigliosi incontri  alla GNAM, tra giovanissimi visitatori opere e artisti. Un nuovo modo di vivere il museo e condividere la bellezza
A wonderful story of incredible encounters that take place in the National Gallery of Modern Art (GNAM) in Rome, between very young visitors and artists. A new way of experiencing a museum and sharing beauty.


2012 L'ORO DI TORVAJANICA.
È un racconto corale, tessuto quasi come una rete dai pescatori che, attraverso la loro storia, raccontano la storia di una terra e del suo mare
As if they were weaving a fishnet, fishermen tell stories of their land and their sea.


2011 IMPRENDERE LA PROPRIA VITA. ADRIANA SBROGIÒ
Questo video è l'intervista integrale ad Adriana Sbrogiò, donna desiderante e libera.
This video is a complete interview with Adriana Sbrogiò, a desiring and free woman.


2010 LA POLITICA DEL DESIDERIO
Il racconto del femminismo, scandito con trasporto e humour dalla voce delle sue protagoniste che mettono in gioco: pensieri, corpi, emozioni
The story of feminism; full of humor and emotions from the voices of its female protagonists through their thoughts, bodies and feelings.
2009 LA REPUBBLICA DELL'UTOPIA
Storici e testimoni di allora ripercorrono gli eventi del 1944 a Domodossola, densi di una straordinaria consapevolezza politica
Historians and witnesses belonging to that time look back on events that took place in 1944 in Domodossola. A tale of extraordinary political awareness.
2008 L'ISOLA DELLE ROSE
La regista torna a Rodi per ripercorrere le proprie vicende familiari intrecciate alla comunità ebraica dell'isola, perseguitata e deportata ad Auschwitz
The art director returns to Rhodes to relive her family experiences that are closely linked to the Jewish community on the Island, persecuted and deported to Auschwitz.
2007 PUNTO… E BASTA!
24 novembre 2007 Più di 100.000 donne hanno manifestato contro la violenza. La cronaca di quella storica giornata
24 November, 2007. Over 100,000 women demonstrate against violence. An account of that day.
2007 OTTOMARZO07
Cosa c'è nella testa degli uomini che genera la violenza contro le donne? Alcuni di loro del gruppo Maschile Plurale prendono la parola.
What gets into men when they become violent towards women? Some men who belong to a group called Maschile Plurale (Male Plural) speak on these matters.
2006 IO, PRIMO CARNERA
La storia di Primo Carnera, campione dei pesi massimi, raccontata attraverso il suo diario trovato per caso dai suoi figli in Florida.
Portrait of boxer Primo Carnera, heavyweight champion, inspired by an autobiographic document found by his children in Dunedin, Florida.
Parallelamente alla produzione documentaria, L'Altravista si è impegnata nell'ideazione di eventi legati alle arti performative, musicali e dello spettacolo realizzando, a partire dal 2015, la rassegna Sesto Continente, patrocinata e sostenuta dal Comune di Bosa (Or). Nell'arco di cinque anni Sesto Continente ha presentato documentari, Reading, presentazioni di libri, danza e musica dal vivo, laboratori d'improvvisazione musicale, ispirati al Mediterraneo, inteso come un mare inclusivo.
L'Altravista has also created a summer season review called Il Sesto Continente("The Sixth Continent"), sponsored by the Municipality of Bosa (in Sardinia), that proposes documentaries, readings, book presentations and live music inspired by the Mediterranean area.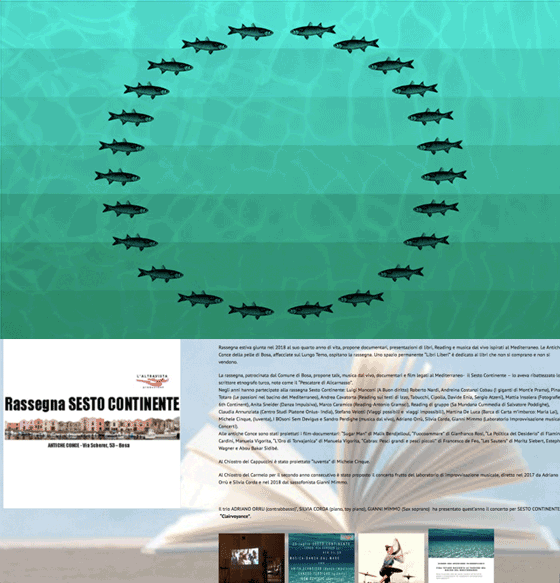 L'Altravista ha realizzato il sito crossmediale Interactive Art Adventures, sostenuto da ISF, Por 2014-2020.
L'Altravista was involved in the building of the crossmedial project called Interactive Art Adventures, supported by ISF, Por 2014-2020.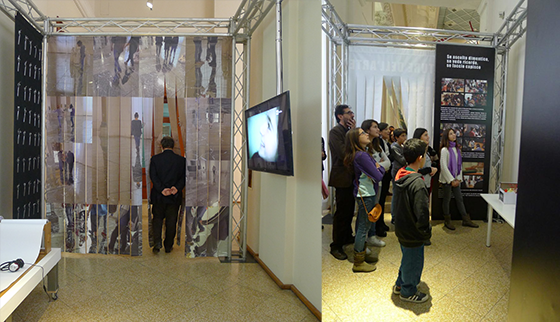 Precedentemente la società aveva ideato e realizzato l'istallazione artistica Art-Edu Avventure dell'Arte, presentata alla Galleria nazionale d'arte moderna, a Roma, in collaborazione con i servizi educativi della Galleria e con il sostegno dell'Assessorato alla Cultura e Politiche Giovanili della Regione Lazio, Rai Teche, Agenda del Giornalista.
ART-EDU – Avventure dell'Arte, realized with the support of the Department for Cultural Policies, is a multimedia exibition proposed by the Galleria nazionale d'arte moderna in which our recent art documentaries "Avventure in Galleria" interact with several famous RAI programs.
With La memoria ha un futuro. Processo per stupro trent'anni dopo ("Memory has a Future. Court Case on Rape Charges Thirty Years Later"), a multimedia event realized by the Department for Equal Opportunities of the Municipality of Rome, we launched an initiative that took place simultaneously in four municipalities of the capital.


L'evento La memoria ha un futuro. Trent'anni dopo "Processo per stupro", tenutosi in quattro municipi della Capitale, è stato ideato e realizzato dall'Altravista, con il sostegno dell'Assessorato per le pari opportunità del Comune di Roma.




Il progetto espositivo Mostri Sacri, dedicato a Dario Fo, Franca Rame, Vittorio Gassman e Franca Valeri e alle loro performance teatrali, cinematografiche, televisive e radiofoniche, è stato proposto alla Casa del Cinema, in collaborazione con l'Istituto Luce che ne ha pubblicato il catalogo, e con il sostegno di Rai Teche, L'Europeo, Roma Lazio Film Commission, Unicredit.
Our company created Mostri Sacri ("Sacred Monsters"), an exhibition project proposed by the Casa del Cinema, in Rome, together with the Istituto Luce, Rai Teche and L'Europeo, in honour of Vittorio Gassman, Dario Fo, Franca Rame and Franca Valeri..